[Interview] Lim Byung-ok, CEO of Electronic Device Solution Inc.
Pioneering the semiconductor component market highly dependent on foreign products using gallium nitride
Utilization of key defense equipment such as military radar system, 5G wireless communication, and plasma equipment
Electronic Device Solution Inc. CEO Lim Byung-ok wants to bring a new wind to the semiconductor parts market, which is highly dependent on foreign products with GaN (gallium nitride). [Photo = Reporter Lee Won-hee]
Fabless is attracting attention as a leading edge in the semiconductor industry. Fab+less refers to a company that specializes in semiconductor development without its own factories. Qualcomm of the United States, the global No. When a fabless company specializing in semiconductor design and development develops semiconductors, a foundry company produces them. One of its strengths is that it can adapt to trends faster than general semiconductor companies by responding to demand by demonstrating expertise at each stage.

It is because of these strengths that fabless companies are attracting attention recently. As the semiconductor supercycle (super boom) continues, where semiconductor supply cannot keep up with demand, more and more people are looking for fabless companies that can make quick decisions. However, the competitiveness of domestic fabless companies is still weak. Compared to the US, which occupies 56.8% of the global market, Korea has a market share of only 1.5%.

The positive part is that the possibility of small fabless companies entering the market is gradually increasing due to the booming semiconductor industry. Now is an opportunity for Electronic Device Solution Inc., which is aiming to become Korea's representative fabless. It is a strategy to actively respond to customer requests and penetrate a niche market. We met Lim Byung-ok, CEO of Electronic Device Solution Inc.
and heard more details.
◆ Development of semiconductor parts using GaN devices, plans to secure demand through 'localization'... "Aiming for a niche market"

Electronic Device Solution Inc. is a company that designs and develops products of RF (radio frequency) parts, modules and devices used for military systems such as active phased array (AESA) radar, wireless communication such as 5G communication, and industrial systems such as plasma equipment. Among them, the development of semiconductor chips using GaN (gallium nitride) is the main focus.
GaN can be said to be a material characterized in terms of power amplification. It has the advantage that the figure of merit is about 1,400 times better than that of Si (silicon) power semiconductors, so it is also known as a next-generation power semiconductor technology that breaks through the performance limits of existing power semiconductors. L-band, S-band, X-band, Ku-band, and Ka-band are widely applied in the civil and military fields. In addition, the application in the civil field is increasing due to the expansion of demand for wireless communication.
Regarding the reason for developing semiconductor parts using GaN, CEO Lim Byeong-ok said, "We are aiming to localize semiconductor parts that are dependent on foreign products." It can be seen that the entire amount is imported and used."
Above all, there is a greater sense of mission to properly prove the value of technology. CEO Lim, who participated in the development of the AESA radar prototype of the KF-21 Boramae, a Korean high-tech fighter that was unveiled this time, was aware of the importance of developing GaN semiconductor power amplifier integrated circuit technology, which is a key component. This is the reason why we are doing our best to localize development.
Electronic Device Solution Inc.' main core products. Clockwise from top left: DC connector, S-band low-pass filter, module, X-band 30W high-output power amplifier. [Photo=Provided by Electronic Device Solution Inc.]
The AESA radar, which is installed on the latest fighters, is essential for first identifying the enemy in the air and finding the strike target on the ground. It is called the 'eye of all systems' because it can detect and track multiple targets simultaneously by operating about 1000 transceivers independently. This is thanks to the thousands of transmit/receive modules attached to the front of the radar. These transmission/reception modules are manufactured by integrating semiconductor chips such as switches, power amplifiers, and low-noise amplifiers.

CEO Lim said, "Efficiency has increased by using GaN. Since it generates low heat and high output, it has advantages in terms of volume and output." "It is important that the signal can be amplified even with smaller parts, so it is possible to detect a target at a greater distance."
His explanation is that GaN technology is reluctant to transfer technology from advanced countries because of these technological advantages. Parts are also designated as EL (abbreviated) items, so import and export are not smooth. CEO Lim said, "In a situation where domestic-led development such as military radar development is increasing, if we develop core technology to respond to demand, it is expected that it will be possible not only to localize it but also to enter the global market."
If so, where is the demand? He said countries in the same situation as ours were targeted.
"There are many countries that are controlled by the United States and Europe. There is no reason to reject a product with proven technology and competitive price. I think we need to dig into a niche market. It is the time to find a strategy in a way that can make use of our strengths."
◆ ETRI, accumulating competency based on experience gained while working at Hanwha Systems, and targeting the global market through quality certification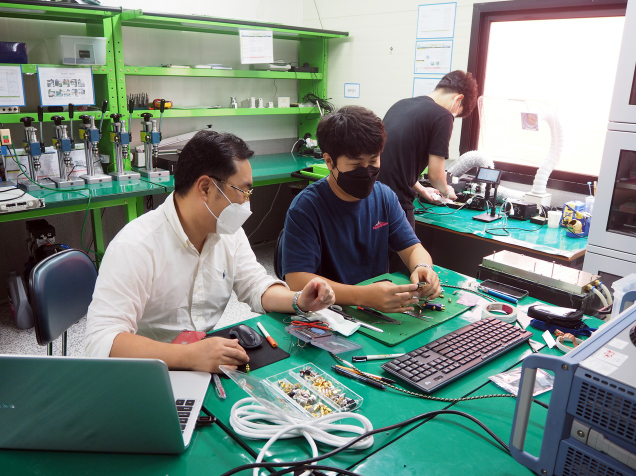 Electronic Device Solution Inc. dreams of becoming a representative domestic fabless company with R&D competitiveness. [Photo=Reporter Lee Won-hee]
Electronic Device Solution Inc. which has been in charge of developing test equipment for AESA radar following the signing of a TDA development agreement applied to Hanwha Systems' KF-X AESA radar system since its foundation in October 2018, was selected as the 1st supplier for Hanwha Systems this year has been recognized Behind such an activity was the courage of CEO Lim, who did not give up and ran only one way.
"I was at Samsung Thales, a company that has now been changed to Hanwha Systems, for nearly 8 years. That's when I faced the reality. Foreign parts were being used a lot in the Korean defense industry. I have to report to the country. I have to tell you in detail what equipment was used, where the demand is, and how much is the annual demand, etc. I decided to start a business after seeing the reality that the core of the military industry is being controlled by foreign countries."
He emphasized that he was able to experience the broad spectrum of the military industry while attending Hanwha Systems, and that he was able to build up the capabilities he is today. It is because his trajectory has had a positive impact on the fact that a start-up company in less than three years was able to secure not only cooperation with large companies but also international certifications used in the global market.
CEO Lim said, "Quality is the most important thing in the military industry. It has received the AS9100 quality certification, which is specialized for the aerospace industry. It is a stricter standard than ISO, which is difficult and expensive to maintain from the standpoint of small and medium-sized businesses, but it is a necessary certification. "Aerospace and space-related products cannot be used without a single NASA procedure. Having AS9100 is an international certification that a company is managing the quality of its products well."
Thanks to these efforts, consultations with Israel are currently underway. He said, "In the case of Israel, which uses a lot of foreign products, they want to cooperate with a reliable company.
◆ Fabless with great potential... We need to foster the domestic fabless industry through bold support policies
Electronic Device Solution Inc. employees. [Photo=Reporter Lee Won-hee]
CEO Lim, who wants to grow Electronic Device Solution Inc. as a representative fabless company in Korea, expressed his opinion that he hopes that support for fabless companies with great potential will be more actively carried out. It costs a lot to develop semiconductor products, but there are many small-scale companies, so it is difficult to bear the cost. It is for this reason that there are cases where domestic fabless are sold abroad.
He said, "There is a tendency to neglect fabless companies, but most of them have tremendous potential. Please come up with countermeasures so that the industry can be nurtured," he said.
CEO Lim, who is currently enjoying the benefits of being a contracted company with the Daejeon Defense Venture Center, also expressed his hope that Electronic Device Solution Inc. will grow into a company that can contribute to the country based on the current support.
"One of the most important industries to protect our country is the national defense industry. We hope to become a company that can contribute to this. I think there are many companies who have such a mindset, including us. We, Electronic Device Solution Inc. will do our best to make a good company together with the talented people who are running the company together."